Building a new home means installing a septic system to go along with it. Even existing homes with a septic tank need to have maintenance performed. County Wide Septic Pumping is the company you can trust for septic services in Riverside County and San Bernardino County, CA. For years, County Wide Septic Pumping has provided high-quality septic tank installation, pumping, and repair services for both residential and commercial clients. We also offer 24-hour emergency septic tank pumping & repair as well!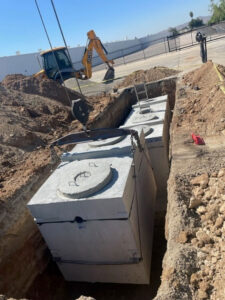 When municipal water services are not available in Riverside or San Bernardino Counties
There are many areas in Riverside and San Bernardino Counties in which municipal water and sewage services are not available. Whether you're building or renovating a home, County Wide Septic Pumping provides you with qualified expertise. We use the most updated equipment to ensure your property has access to both clean water and a well-functioning drainage system. We'll make sure you get the septic tank services in San Bernardino, CA, and Riverside County, CA you need to install a new septic system safely. We also handle everything from soil sampling to pulling the proper permits and completing septic tank installation.
Septic Tank Installation & Emergency Septic Tank Pumping
Those who already have a septic system installed can take advantage of the services offered by County Wide Septic Pumping. The team at County Wide Septic Pumping can come out to your home or business to maintain your septic system. They also perform septic tank repair and pumping and have 24-hour emergency septic services if needed. Fully licensed and insured, there is no septic problem too big or small for County Wide Septic Pumping!
Call County Wide Septic Pumping at Receive your free quote